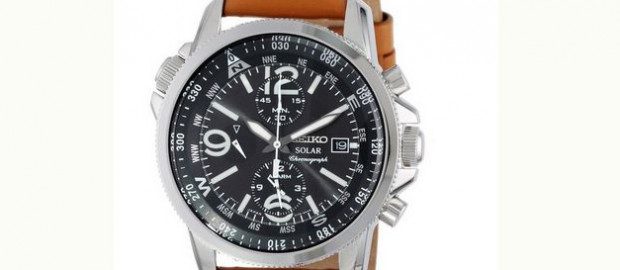 Seiko started from a small company and grew to become one of the biggest watch brands in the world. They have been committed to a mix of technology and scientific elements, but have managed to transition into something far greater. With the release of the Seiko Men's SSC081 Adventure-Solar Classic Watch, they once again showcase their signature attention to details, and this time around, fashion. Fashion-focused but without compromising on the substance, this is definitely a watch that has a lot of promise, and some good reviews as well.
Pros
Looking at this watch, you certainly see a sense of adventure that comes with the face. It has a unique design layout and functions like you would expect in an analog design. It has an alarm chronograph style, and its analog hands move with perfect precision around a numbered face. Crystal hardlex lines the inner,and it is evident that a lot of attention has been made to the details in the casing. Solar powered and accurate, this is definitely more than standard design.
A closer look at the specifications will showcase more technology, without becoming a burden. The hardlex window material has a scratch-resistant coasting, and while it may not be as strong as some others, it's definitely adequate for what you will most likely be putting it through. The case itself is made of stainless steel, and clasps with a buckle on a leather band. Japanese quartz movements allow for precision date, and while the stainless steel bezel is stationary, it still displays a good amount of detail.
Water resistant up to 330 feet (100 meters), this watch can definitely take on a good deal of adventure. The overall diameter of the watch sits at 41 mm and thickness is only 13 mm. It is overall a good, stylized watch, with basic functions and attention to the adventures that you may want to wear it for. It's sturdy and lightweight, and could definitely pass for a casual and somewhat elegant gathering.
[easyazon_image add_to_cart="default" align="center" asin="B008QPA95C" cloaking="default" height="500″ localization="default" locale="US" nofollow="default" new_window="default" src="http://ecx.images-amazon.com/images/I/51Ke8hHyJRL.jpg" tag="modmanswor0e-20″ width="322″]
Cons
Seiko's attention to some details leaves a bit to be desired. This watch is far from perfect, but still a strong contender among other men's watches. Some of the consumer complaints are related to the leather, which can be stiff and hard to break in. The small face and the color are also detracting points, as theymake the watch stand out amidst certain clothing styles. Even though there is a good overall fit, the compass layout is tough to utilize without a digital fingerprint, and some consumers complain that the lack of bells and whistles doesn't comply with the asking price. It's relatively attractive, but it is lacking in terms of functionality, and with a name that includes the word "adventure", some may find that to be a misnomer.
Final Verdict
In the end, Seiko definitely does well with the release of the Seiko Men's SSC081 Adventure-Solar Classic Watch, but without the many different options that competitors have, this may not be for the ultimate outdoorsman. It still packs a punch, just not befitting of the adventure moniker for some. Click here, if this watch sounds like you.